In Memory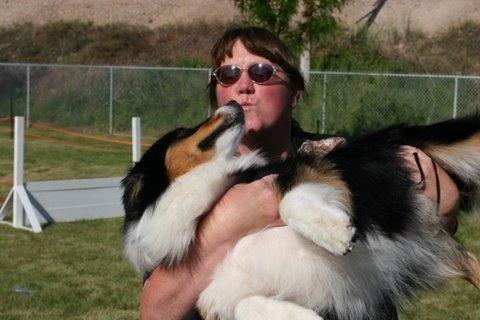 Written August 2014 Dear Yinnis Poosis man, Yinny Poo Poo,
12 years ago today, you were born into my hands, a plain black tri little boy, one of a litter of 6 boys. You had an almost perfect Yin and Yang on the back of your neck, thus your name-Los Suenos Yin and Yang. You were the "last Pick", all your brothers left to go on, to do great things, Frisbee, agility, obedience, Stock. As I have been heard to say, "Who needs another Black Tri Boy". Turns out I did. Every task you attempted, you gave 100 percent. When people applauded, you thought it was just for you! I took you to the Wisconsin Nationals in 2003. Brother "Skid" (MACH 10 Los Suenos Gravity Games MXC3 MJG4 NJP MXF), and you helped your dad "George" (HOF CH Legend Bienvenido Los Suenos STDcd) win a second place in Stud dog, Under Lori Acierto, behind Quincy. During the Upper Midwest ASC Pre-Nationals, in Wisconsin, you won your class, and went back in for Winners Dog. I was elated, no matter what happened, I had accomplished my goal of placing! Ann Atkinson was the Judge, made her cuts, and you were 4th in line. Ann made one more walk down the line, and when she came to you, I saw her tilt her head, look down at you and smile. On the final Go-around, she pointed to my just barely one year old Yin for WD!!! We went back in, under Richard Pittman, and you walked away with BOW! I walked away and had to go soak my feet in the pool. Who needs another Plain Black Tri boy? I Do! In 2005, at the Georgia Nationals, your sister "Scooby" (CH Los Suenos Scooby Doo) and you helped your dad "George" (HOF CH Legend Bienvenido Los Suenos STDcd) win a First place in Stud dog under Gail Karamalegos. Who needs another Plain Black Tri boy? I Do! In 2006 at your very first AKC show, you went to Denver to a USASA Specialty. You were shown by Jennifer Barajas. It was reported to me that you could not keep your feet on the ground, and would jump straight up in the air (there was applause mom!), and come down in a perfect stack! You walked away with WD/BOW/BOB for your first 5 point major! Who needs another Plain Black Tri boy? I Do! I sent you to Heidi Mobley in TX to finish your AKC championship, and in short order, you were an ASCA and BISS AKC Champion. You have so many accomplishments, that I could not possibly list them all. Now that you are retired from the show-ring, you are never more than a few feet from my side. We always have to be touching, whether you are at my feet or on the couch with your head on my lap. You sleep on the bed, with me, and I wake up at night to check and make sure you are beside me, then, I can go back to sleep. I hope you are with me, many more years, a world without you in it, is unfathomable to me. God saw fit to put dogs on this earth to teach us what true loyalty is supposed to be, what unconditional love looks like, and to teach us the pain of eventual loss, for none of us can live forever. Who needs another Plain Black Tri boy? I Do! Happy 12th birthday, my beloved boy.
Who needs another Plain Black Tri boy?
God Did........
BISS AKC, ASCA UKC CH Los Suenos Yin and Yang
8-28-02 to 1-6-15
---
HOF Private Stoc's Manzanita STDsd OTDc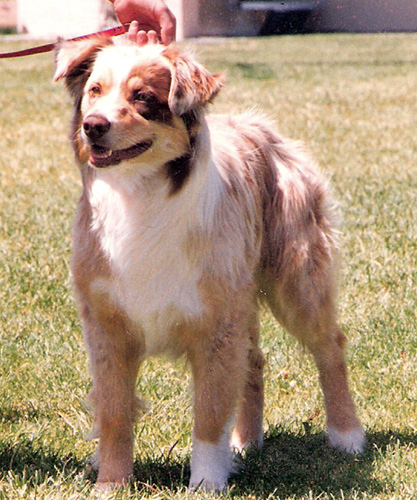 Manza was one of those rare individuals that could find her way out of any fence, if her dad was on the other side. Joe would be in the ditch-bank, irrigating, confident in the knowledge he had left her fenced in, only to look up and find her sitting next to him, waiting for a scratch behind the ears. He never figured out how she got out.
---
HOF CH Private Stoc's Maclovia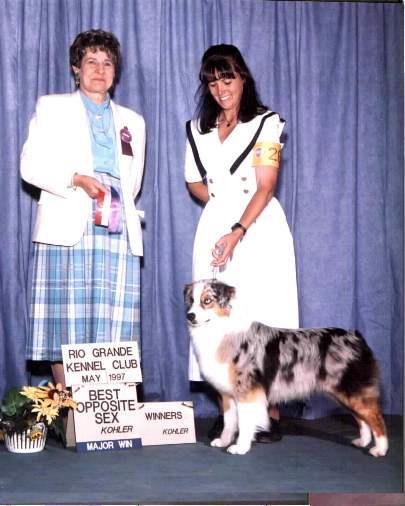 Macky was never happy unless she was at eye level. She would jump or climb on anything you were standing near, to be at eye level. She was part mountain goat, and would climb the stacks of hay so she could jump the 15 feet to the ground, scaring me more than once. She was an exceptional Mom and raised pups who did everything from Conformation to agility to obedience. She adopted a pair of kittens that were abandoned at 4 weeks and became their surrogate mother, cleaning their ears incessantly. They, along with I, miss her on a daily basis.
---
HOF Wilmeth's She's Dee Phoebe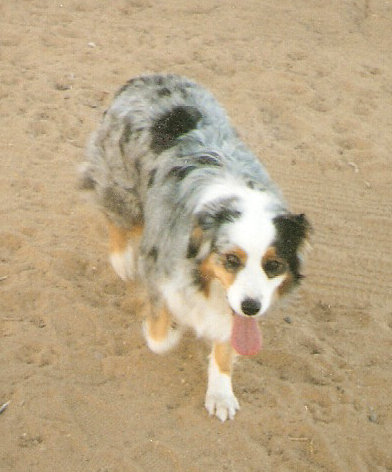 Dee was a clown at heart. She was not interested in being a show dog, did not want to do obedience and was content to spend most of her days laying on the couch looking pretty. She raised some exceptional pups including top conformation dogs, stud dog winners and Multiple BOB's and Premiers.
---
HOF ASCA AKC CH Zuzax's Coupzax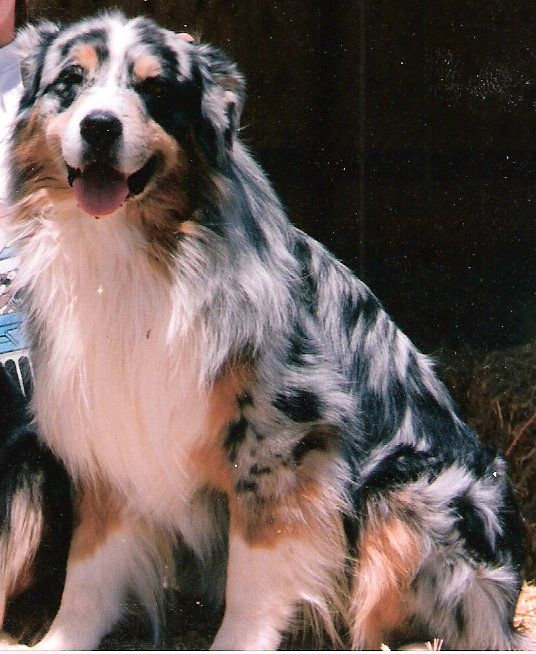 Zack was one of those dogs who had a prescence about him that was regal, to say the least. He had some of the best movement, and passed this on to all his get. He loved to roam the 8 acres and would not come back to the house until the entire property had been "patrolled" and I am sure, marked.
---
CH Private Stoc's Texas Ranger CD STDcsd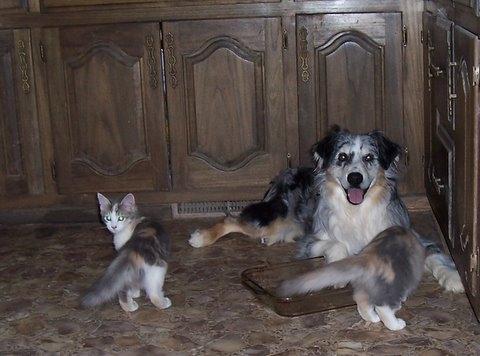 Walker is one of the most amazing dogs I have ever known.
One of my favorite stories about Walker is the "cat food can". We used to have a 17 year old cat that we had to feed canned food because she had no teeth left. I kept the cans in the house, took them out daily to feed and then dogs would lick the left over gravy out of the cans. One evening I was on the couch watching TV, when Walker took
an unopened can of cat food off of the shelf in the kitchen, brought it into
the living room and plopped it in my lap. He sat in front of me
and looked at me expectantly. I laughed at him and put the can on the end table and went back to watching TV. He sat looking at me for a short time and then left.
I heard a weird noise in the kitchen and went to investigate.
Walker had taken another can of cat food off of the shelf and had
proceeded to bite holes in the can and was licking up the gravy. He had
brought me the first can to open for him and when I did not co-operate (dumb mom!), he
took matters into his own paws, so to speak.
Walker always was one to figure out what a person was doing and try to help. We heat our home with a wood stove, so Joe, My husband would go to the side of the house daily to bring small pieces of wood in to start the fire. By the third day of this, Walker ran ahead of Joe, to the side of the house and as he came around the corner, Walker met him with a stick of wood in his mouth and shook it around and play bowed as he showed his dad, he was here to help.
Walker was Joe's right hand man on the farm. It is super hard for a dog to work horses as they can hurt a dog with their front feet, rear feet and teeth. Walker taught many horses to load in the trailer, taught them to walk on the horse walker and never applied any more pressure than was necessary to get the job done.
Joe had a couple horses on the walker and was out of sight cleaning stalls. The horses were sitting back and causing the horse walker to grate gears. Joe was just about to go see if he could get the horses moving again, when the grating of the gears stopped. Joe finished mucking out the stall and came into view of the horse walker and there was Walker walking quitly behind the horse to keep them moving, all by himself, performing his job.
Walker always had the temperament of a Golden Retreiver, except for once.
I was home alone working on the computer and I heard Walker out in front of the house growling like I had never heard him before. I went to the door and a man was standing in our pasture, not 15 feet frm the front door. Walker was circling him and would not let up his growling and I had a very hard time calling him back to me. The man said "I broke down on the freeway, I need to come in and use your phone. The freeway ia about a quarter mile from my home but you need to get across a 30 foot wide and 20 foot deep irrigation ditch to get to my home, from the freeway. With Walkers reaction to the guy, I told him he did not need to use my phone, he needed to "GET THE HELL OFF MY PROPERTY". He walked to the gate climbed over and left. Walker settled down, one he was gone. 2 days later on the evening news, they were reporting on a man who severely beat and raped a woman after she let him in her home to use the phone and when they showed the composite drawing the police had made, it was the same man. I always felt protected when my "Walks" was around. Not a day goes by that I do not miss him, cry over him and realize how big a hole is in my heart since the day I had to say goodbye to him.
---
HOF ASCA CH Los Suenos Walk of Fame STDs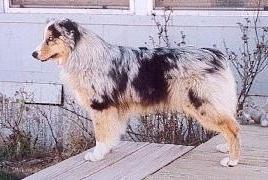 Nickie was one of the sweetest dogs you would ever want to meet. She was content to sit in your lap or be by your side. She had the most beautiful marbled eyes I have ever seen and was not afraid to bat them at you to get what she wanted. She has produced outstanding pups in Herding, Obedience, Conformation and Agility.
---
Los Suenos Charismatic
DNA-VP
Oscar was one of the sweetest dogs I have ever known, he was never a problem, always
listened and wanted to please. He loved to meet me at the gate and see if there were any tidbits in the car, that he could steal, he especially loved french fries. He took a little bit of our hearts with him.
---
Los Suenos Glitter of Legends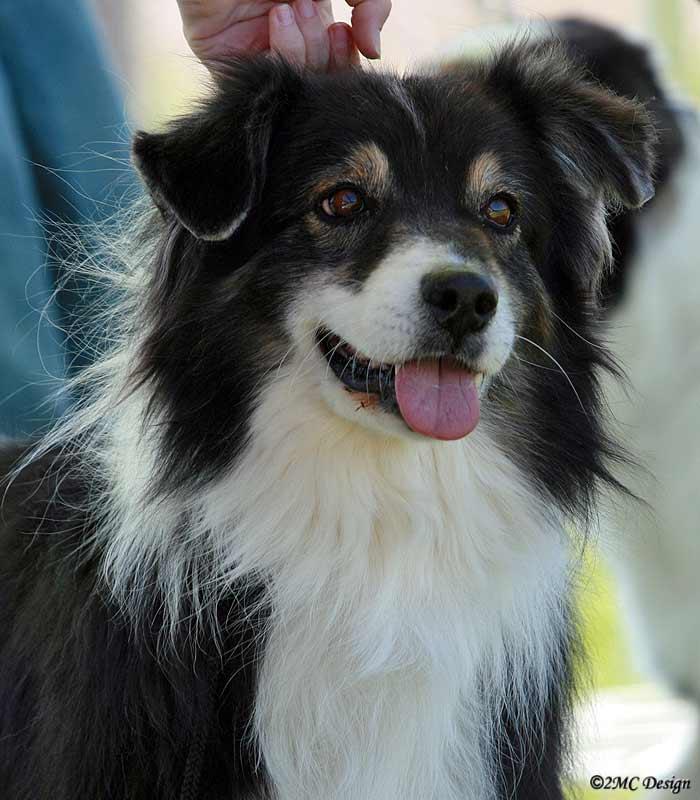 Every one that Glitter met was an automatic friend, she loved life to the fullest.
---
CH Private Stoc's TNT Los Suenos
Nitro was a "bull" of a dog, he was a great deal like his dad Zack. He loved to do that deep bark if he thought anyone was in his "Space"
---
Los Suenos Mano Y Mano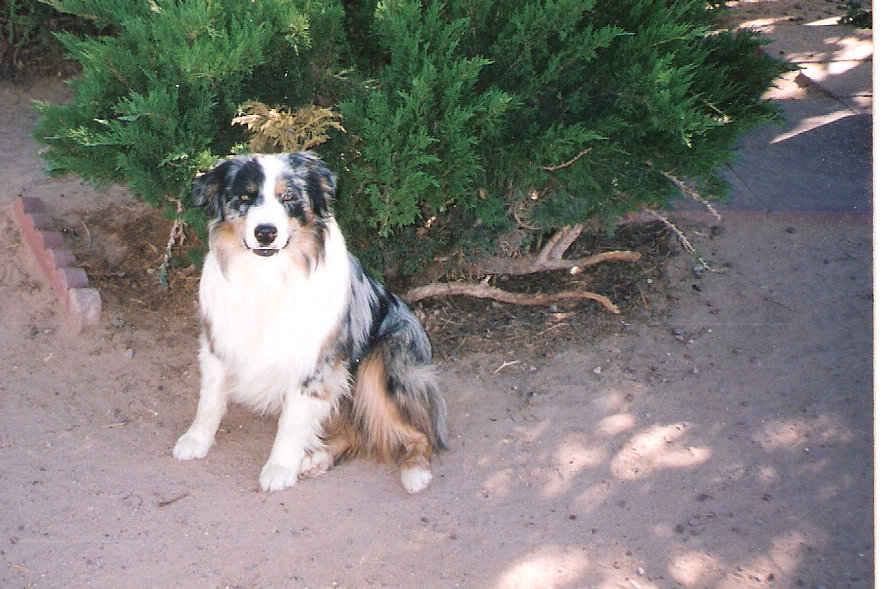 Mano was Joe's dog from the moment he was born, the two of them were inseperable, till the day Mano crossed the Rainbow Bridge, he is missed
---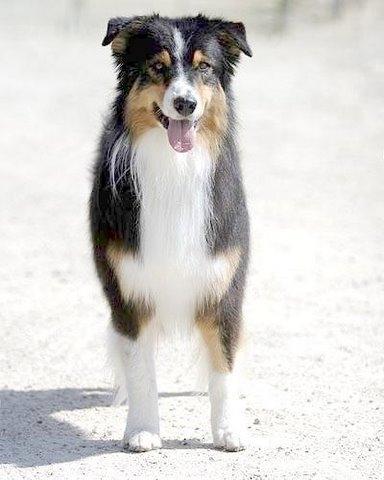 "George"
HOF CH Legend Bienvenido Los Suenos STDcd DNA-VP
August 23rd 1997-July 26th 2012
Bred by Dorothy A Montano and Anne M Shope

Today, just 28 days short of his 15th birthday, we had to say goodbye to a trusted friend, a character, and a joy.
You loved the water and passed that trait on to many of your kids:o)
George gave me many firsts-
My first herding titles, we got a 95 in started cattle

...

, he came in 8th that year earning a Certificate of Merit. An 85 on started ducks under Rachel Vest, boy was I proud of him.
My first Stud Dog second place at the 2003 Wisconsin Nationals under Lori Acierto and our First Stud Dog win at the 2005 Georgia Nationals under Gail Karamalegos.
My first nationally ranked dog at # 13 in the Nation with Just local showing.
George out produced himself on so many levels, his get include-

A-CH, UCDX, UCH, RL1X, RL2X, ARCHX Dayspring Gift of Los Suenos, ASCA/AKC CDX, RAE, RNX, STDs, PT, JHD, RV-E, JV-E, GS-N, AX, AXJ, NJP, NAP, RL1(AOE), RL2(AOE), CGC (one leg GS-O, seven legs RL1X2, eight legs JV-E-OP, two legs OJP)
Los Suenos Over The Top RA OA OJC TNN GS-N RS-N
Los Suenos the Light of Samwise CD
ATCH CH Los Suenos Water Lily GS-E JS-E RS-E
Los Suenos I Think I Can Fly GS-N JS-O
CH Las Suenos Ebony and Ivory
CH Ain't Life Grand
Los Suenos Shades of Light -Dutch Frisbee CH for 2 years
NATCH ATCH MACH 8 Los Suenos Gravity Games NAJ NJC JS-N GS-N NGC 2006-07 # 3 Australian Shepherd in the Nation-AKC agility-jumping 20 inches
CH Los Suenos Dreams In Blue
A-CH Los Suenos Hello Kitty-Altered Conformation finalist
A-CH Los Suenos Not the Average Joe
BISS-UKC ASCA CH Los Suenos Scooby Doo multiple premiers/BOBs/ Conformation finalist
BISS-AKC ASCA CH Los Suenos Yin and Yang -Multiple Premiers/BOBs
ATCH CH Del Sol's Wicked Temptress JS-E-SP RV-E-SP DNA-CP STDds
ATCH CH Del Sol's Silver Temptation STDcs JV-E-SP DNA-CP
George, You will be missed…..but I still "see" you in all your kids, and grandkids
Till we see each other again........
---
Los Suenos Especial Caliente (Deceased)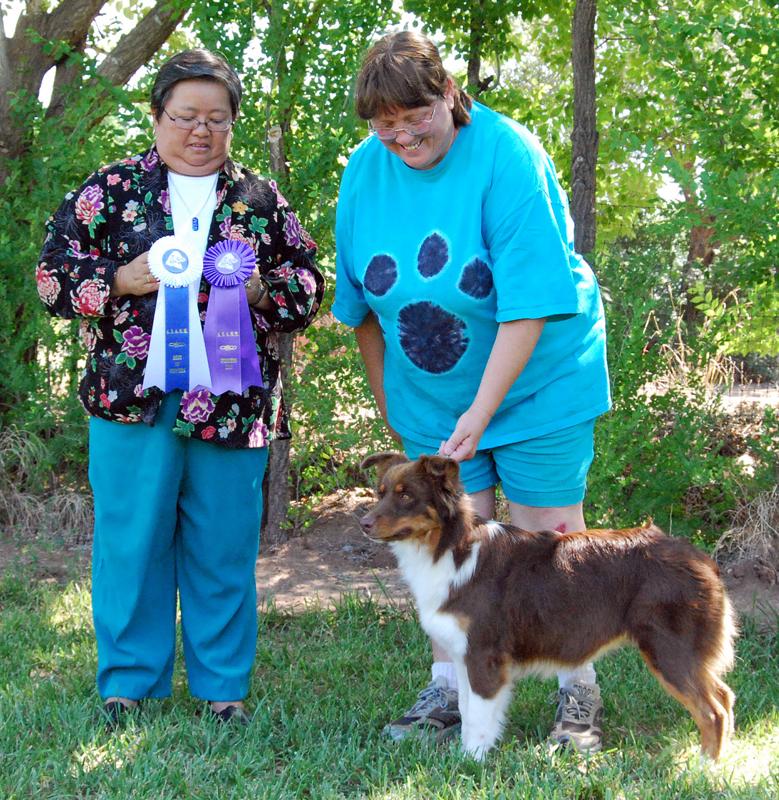 You left us way to soon, we miss you daily.
---
CH Los Suenos Dreams In Blue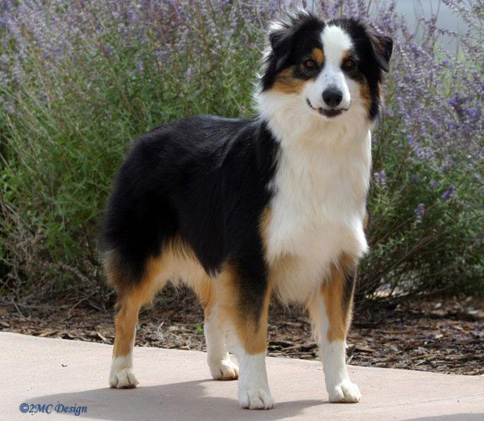 Cookie is the foundation of a great many breeding programs.
She has offspring that can do it all!!!!!
She had the best temperament, was tough as nails and would do anything I asked of her. When she finisher her CH, she was missing a toenail and the quick was exposed, she never took a wrong step. She was the epitome of the correct Aussie